DevOpsDays is a worldwide series of technical conferences covering topics of software development, IT infrastructure operations, and the intersection between them. Topics often include automation, testing, security, and organizational culture.
We are looking forward to seeing you there!
Event page is at https://www.devopsdays.org/events/2018-tel-aviv/
DATE AND TIME
Tue, Dec 18, 2018, 9:00 AM –
Wed, Dec 19, 2018, 6:00 PM IST
LOCATION
Merkaz HaYeridim – Ganei HaTa'arucha
101 Rokach Blvd
Tel Aviv-Yafo, Tel Aviv
Motion Control, Automation & Power Solutions 2019 
The Conference will include lectures on various subjects as well as dozens of show booths of all companies leading in these fields, and new and innovated products. Topics covered during the conference:• Servo engines and Motion systems  • Automation systems  • Robotics • Drivers, Control and Power systems • Analyzers and Simulators • Control methods, Algorithms, Software • Various sensors (encoders, gyro, acceleration, power, new technologies etc.)• Power suppliers, power solutions, heat dispersion etc • New modules in the industrial medical and military standards • Batteries • Robotics • and others.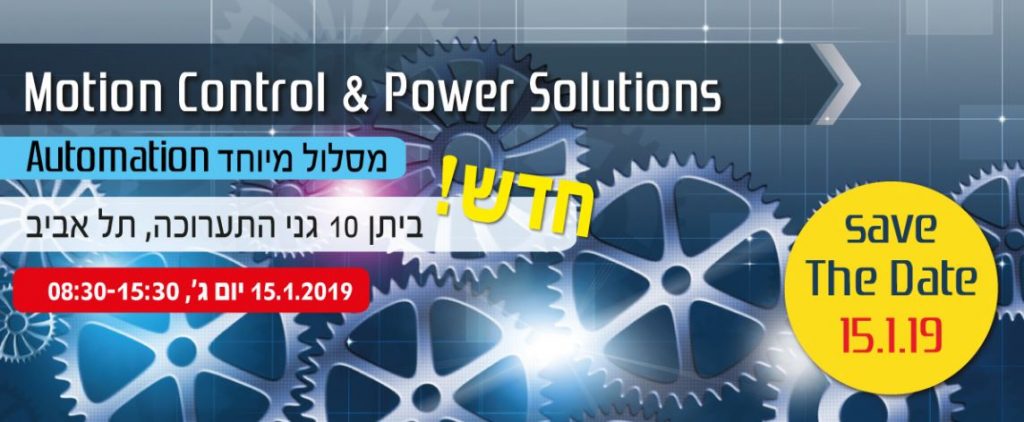 Israel's leading annual conference for the Military & Aviation industries
The research and development in the Israeli military industry is one of the world most advanced. Israel is considered to be a breakthrough maker in this field of technological development. Tens of electronics and technology companies, the leading vendors in the military industry, will take part in the exhibition. The show will encompass a variety of the most advanced products, innovations and solutions that meet military and aviation standards.
The conference is aimed at executives, development, engineering and purchasing people, operation and manufacturing managers and project managers at plants and in various companies in the industry, military personnel, special services personnel and others. The entry for visitors is free of charge and includes a rich dairy breakfast menu for early visitors. Light refreshment and drinks during the day. We shall be happy to see you!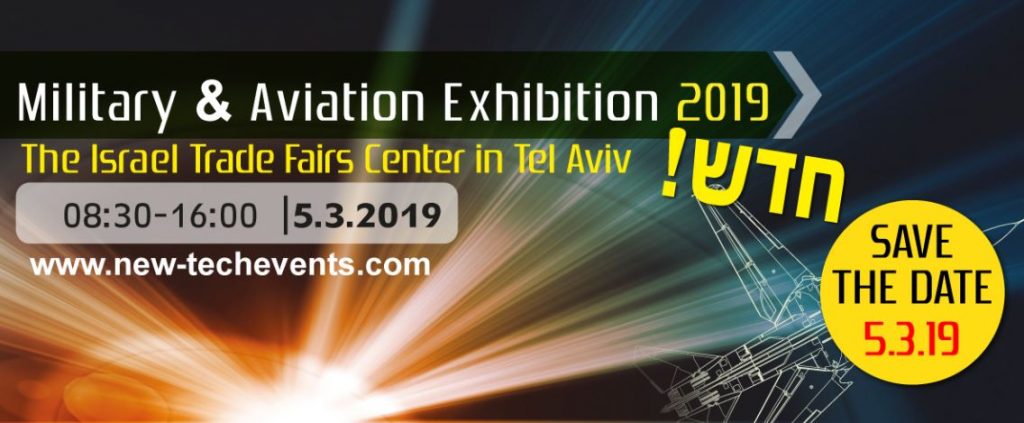 NEW-TECH 2019 EXHIBITION
All Leading Companies, Representatives, Manufacturers, Distributors, Vendors, Suppliers, Products and all the Leading service providers – All meet at the Major Exhibition – New-Tech Exhibition 2019.The New–Tech 2019 Exhibition is the largest and major exhibition of the Hi–Tech & Electronics in Israel. More than 150 companies, who lead these fields in Israel and around the world, will take part and exhibit in this trade show, which will be attended by thousands of visitors. The subjects that will be presented in the exhibition include: A large variety of all the electronic components;  Production processes, Sub–Contracting and Service providers of development, design, engineering, procurement, production and test services; Clean Room equipment and instrumentation; Electro–Optic Items, Lasers, Fiber–Optics, Lenses, Cameras and more; Test equipment, Test processes and software, Laboratory equipment, Tools; Printed Circuit Boards, Different Industrial Materials, Enclosures, Plastics, Electro–Mechanical Equipment, Packages, Cables and Fasteners; Computerisation – General Computerization, Industrial Computerization, a Variety of software programs, Peripheral Devices, Operating Systems, Computer Embedded Systems; Drive Control, Motors, Robotics, Sensors, Assemblies and Systems; Power Systems, Power Components, Un–Interruptible Systems; RF, Micro–Wave Systems, Communication and Antennas.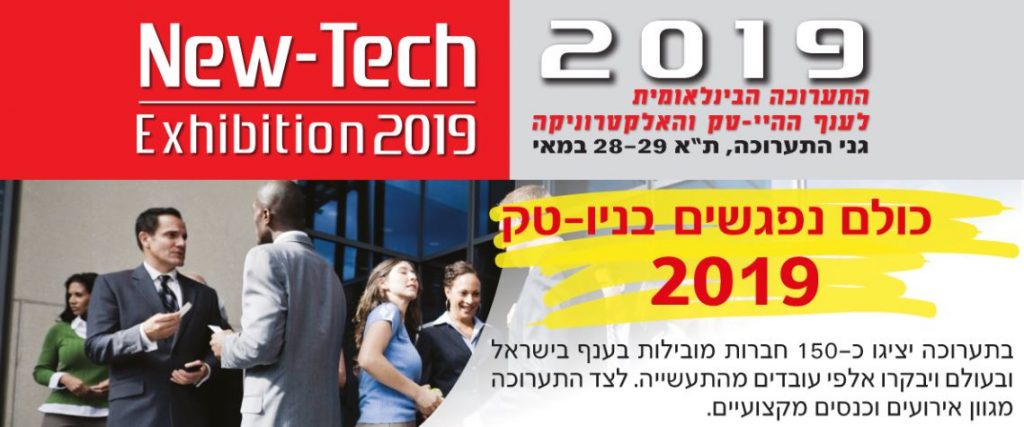 RF & MICROWAVE 2019 CONFERENCE
The annual conference for RF, microwave, and communication features a range of lectures that will be devoted to showing the innovations, projects, and systems in the fields of RF and microwave, communication, antennas, special projects, satellites, radars, components, test equipment, electronic systems in the field and more.
The conference will be held at the New Tech 2019 exhibition in which the companies, manufacturers, and subcontractors in this field will be exhibiting.
Participation in the conference is free of charge but advanced registration and the organizing company's approval are required.
The conference and exhibition are for employees of high-tech and electronic industries, academic institutions and the security forces.